Best Calligraphy Sets 2017 – Buyer's Guide & Reviews
Which are the best calligraphy nibs for beginners?
If you are a cartoonist, artist or calligraphist,  pen selection is the most important element. Great artwork without equally great lettering looks tacky, poorly executed and amateurish.  We have looked for five of the most highly rated calligraphy pen sets to help you in your quest for perfect lettering.
There are different brands, sizes and types of calligraphy nibs and a set of calligraphy pens gives you scope to try the variation is size to produce different styles of lettering. The following calligraphy sets have some of the best nibs for modern calligraphy without breaking the bank!
Lamy calligraphy pen set – black with red trim
This is my favourite and personal choice for lettering.  Although the finish from the pen is superb the Lamy calligraphy pen has one massive advantage over other brands – its shape.  The ergonomic design is the best I have found for comfort and grip.  It is one of the few pens that makes you feel as if the pen is part of you.  this is why most of my personal pens and retractable pencils are from the Lamy range.
The set consists of the lengthy screw on tapered barrel with push fit cap which has a really well designed clip to secure the pen in your pocket.   There three interchangeable nibs 1.1, 1.5 and 1.9mm – the smaller nib allows for general writing and as a fountain pen the Lamy is sheer joy!  There is a  pack of 5 Lamy ink cartridges plus a guide booklet for the set  which are  housed in a secure and stylish metal box which is great for transporting and also makes a great gift set.  One of the best types of calligraphy pens on the market!
Get the latest price for the Lamy calligraphy pen set right here…
Rotring Artpen calligraphy 11 piece set
This is also a superb pen which I use regularly.  Very stylish with a good feel and grip in the hand and backed up by the quality of the Rotring brand.  The pen has great balance with its quill shape and comes with three calligraphy nibs 1.5, 1.9 and 2.3mm a great range of Calligraphy width.  i also use the larger nib for filling in larger areas of block color in cartoon work rather that a brush.
The pen top is push fit with a secure clip that won't let you down when you need to secure the pen in your pocket.  The set comes with 6 rotting ink cartridges – one of the best inks on the market. A superb calligraphy set that is housed in a stylish presentation box – great portability and an ideal gift set.
Speed ball 6 nib calligraphy set with 9″x12″ Calligraphy Paper Pad – ideal for those learning how to do calligraphy
This is a basic set of six  interchangeable calligraphy nibs (c1, c2, c3, c4, 100 and 152 sizes) that comes in a bundle with a 9″ x 12″ US Art Supply calligraphy paper pad.  This is a great set for the absolute beginner to try out calligraphy before venturing into some of the higher priced (and integral 'with cartridge') models.  The paper pad includes printed Practice Rule and Slanted Grid.  Please note that the speedball pen is a 'dip pen' (has to be dipped into an ink supply and has no internal cartridge) and requires an additional bottle of ink (ink not included in the set).
If you don't require the bundled calligraphy paper pad there is the option to purchase the calligraphy set on its own.  A great highly rated dip pen and perfect if you want to know how to learn calligraphy economically!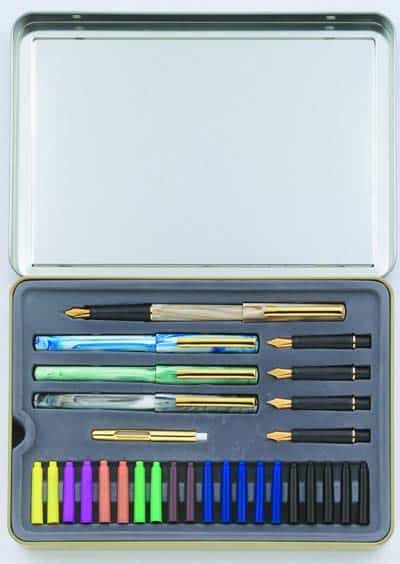 Staedler 33 piece calligraphy pen set
Quite a substantial set with 4 pens, 5 nibs (extra fine, fine, medium, broad, extra broad) and a range of 20 different colored inks 5 blue, 5 black, 2  yellow, 2 orange, 2 pink, 2 green and 2 brown.  There is also a practice pad and instruction book and the whole set comes in a really nice compact metal box which makes it an appealing gift.
If you are looking for a high end calligraphy set this may not be for you.  If you are looking for a beginners set with good quality nibs and ink this is a very good set to start with.  Not in the same league as the Rotring or Lamy pens but really good value.
Sheaffer Calligraphy Maxi Kit – 3 Pens
Another substantial calligraphy pen set with three 'fountain style' pens, 3 different nib sizes (fine, medium, broad) and a variety of 14 Skrip ink cartridges.  There is also an aerometric converter which allows you to use your own ink supply if you wish. The set also comes with an instruction manual with step by step guidance.
This is another ideal starter kit and also very good value for money.  The attractive pens each have their own individual viewing panel to allow you to monitor the ink level.  The only downside is there is no box supplied to store the pens.
Which is the best recommended pen set to write calligraphy fonts?
If you are looking how to learn calligraphy and just want to dabble before buying a more professional set we would advise the basic Speed ball 6 nib calligraphy set with optional 9″x12″ Calligraphy Paper Pad.  If you are looking for a more comprehensive set for a beginner then either the Shaeffer or Staedler set could be the right choice with the Shaeffer having a slightly higher 4 star rating on Amazon.
The Rotring Art Pen calligraphy set is excellent however for someone who really wants a quality pen that feels superb in hand there is a clear choice with the Lamy set.  I have used this for several years and can't fault it!